Thursday, September 15, 2022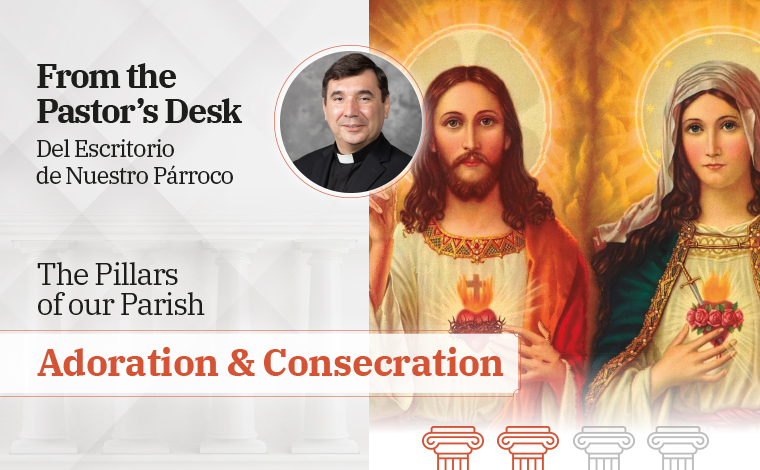 Dear family,
In today's gospel reading the Apostles said to the Lord, "Increase our faith." This is something we ask the Lord constantly and we wish it will happen immediately. We all have been in different situations in life and have been raised under different circumstances, and yet we find ourselves more often than not, doubting our faith and not trusting enough in this wonderful gift from God. The Psalm reminds us of something very important: we need to hear His voice, God's voice.
Last weekend Fr. Yonhatan and I presented you our new "Welcome Package" of our parish and asked you to register in order to know how many we are and who we are. We hope you heard our request and have registered already; if not, please do so this week. This weekend we are presenting to you the first pillar for our parish family. This pillar has to do with the center and most important member of this community of love, St. Katharine Drexel Catholic Church: Jesus Christ, our Lord himself.
Querida familia,
En la lectura del evangelio de hoy, los Apóstoles le dijeron al Señor: "Auméntanos la fe". Esto es algo que constantemente le pedimos al Señor y deseamos que suceda de inmediato. Todos hemos estado en diferentes situaciones en la vida y hemos sido criados en diferentes circunstancias y, sin embargo, la mayoría de las veces nos encontramos dudando de nuestra fe y no confiando lo suficiente en este maravilloso regalo de Dios. El Salmo nos recuerda algo muy importante: necesitamos escuchar Su voz, la voz de Dios.
El pasado fin de semana el padre Yonhatan y yo les presentamos el nuevo "Folleto de Bienvenida" de nuestra parroquia y les pedimos que se registren para saber cuántos somos y quiénes somos. Espero que hayan escuchado nuestra solicitud y ya se hayan registrado; si no, por favor hágalo esta semana. Este fin de semana les presentamos el primer pilar de fe para nuestra familia parroquial. Este pilar tiene que ver con el centro y miembro más importante de esta comunidad de amor, la Iglesia Católica St. Katharine Drexel: Jesucristo, nuestro Señor mismo.