From our Pastor's Desk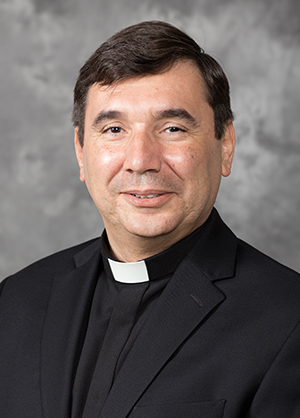 Dear Parish Family:
Jesus is calling us today to be the "salt of the earth and light to the world." This calling came to us after He gave us the Beatitudes, the Constitution Letter of the Kingdom of Heaven. He has commanded us to understand that while we are on this earth, we must never forget that we are His brothers and sisters, as we are all children of God the Father. These two very earthly elements, salt, and light, give us an understanding on how are we to spend our time while we are alive on this planet earth.
Salt has the characteristic of adding and enhancing flavor to our food; it elevates the taste of food on our palates, allowing us to enjoy more food, and therefore, producing excitement and joy as we eat. Salt was the refrigerator of the past; to transport meat from one place to another, anyone must salt the meat to preserve it from decomposition. This is a process that even today, when electricity and refrigerators abound, is used in places without access to energy.
In the same manner, we Christians are to add and enhance flavor to all and to preserve, as Bishop Barron says, "what is best in the culture, everything that is good, true, and beautiful. They are to stand athwart those powers that would cause good things to go bad." Therefore, we are to be preservers and enhancers of the world. However, salt was also used to destroy. The ancient civilizations used salt to prevent earth from growing anything ever again. This means only one thing for us: We are to prevent evil from growing in our world always.
Light is what allow us to see things around us. It allows us to see reality within the physical world. Without light our eyes cannot see an object or a person right in front of us. When we experience darkness, we are exposed to collisions and injuries, or an attack from someone. The absence of light will make us blind. Jesus is calling us to be light for the world, so the world will be able to see everything and everyone; He is calling us to take away the darkness in this world that can only bring to us chaos and blindness.
Being the Salt of earth and Light to the world is our duty as Christians not only for our own sake but also for the sake of the whole world. Everything begins with us and those who are very close to us. We must preserve, enhance, and illumine this world and all that is in it, including ourselves, the human race.
This weekend, all the parishes in the Archdiocese of Miami are promoting the ABDC, the Archbishop's Development and Charity campaign. Twenty-eight percent (28%) of the funds collected from the campaign help the formation and education of seminarians, clergy, deacons and religious in our archdiocese. An additional twenty-seven percent (27%) goes to ministries, evangelization, and faith formation throughout our archdiocese. Lastly, forty-four percent (44%) of the funds collected in this campaign helps the archbishop to promote social ministries and to assists parishes and people in poor communities and or people in needs.
Last year, our parish's response to this campaign was overwhelming. All of you offered and provided funds to the archbishop's campaign with a great sense of love, faith, and hope. We surpass the goal assigned to us. This year's goal assigned to our parish is $139,200. I am confident that we will surpass this new goal; we are very clear in our minds the calling of Jesus to us today: to be the salt of the earth and light for the world. One thing I would like to bring to your attention: when donating to the ABCD campaign make sure all of you specify that your donation is part of the goal of St. Katharine Drexel Catholic Church. If you are donating in cash, please use the appropriate envelope to do so; if you are donating online, please make sure you pick the name of our parish before making the actual online transaction. If you are writing a check, please make sure you use the proper envelope as well.
"Let your light shine before others, that they may see your good works and give glory to your Father who is in heaven" (Mt 5:16). The generosity of being a good steward of your gifts has a positive effect on people and it is contagious! Good works encourages more good works. Generosity is a by-product of a grateful lifestyle. The more we recognize God's gifts, the more we want to share them. Good Stewards recognize that God is working through them and they don't put themselves above the people they have been called to help. In the name of the Archbishop Thomas G. Wenski, and mine, I thank you in advance for your generosity and continued support of this great cause.

While we are mentioning the archbishop, I would like to report the success of the 2023 Motorcycle Ride this past weekend. Members of our parish participated in this annual event; their presence at this event is a demonstration of why we are a parish with One Body, One Spirit, One Family. We want to be the Salt of the earth and the Light for the world.
St. Katharine Drexel, St. Michael The Archangel, Blessed José Gregorio Hernández, pray for us!
Yours in Christ Jesus!
Fr. Omar